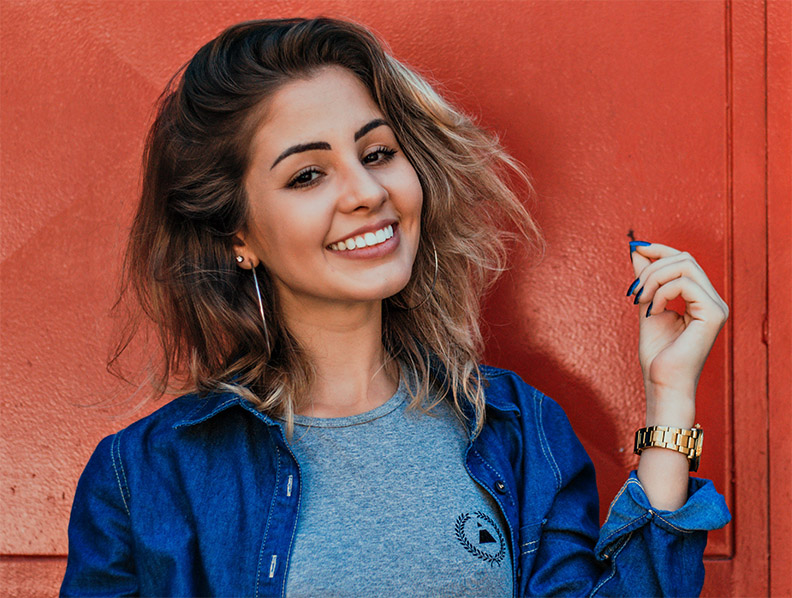 Cosmetic Dentistry
Our passion is making our patients' smiles the best and brightest they can be! We know that there is nothing more valuable than the self-esteem gained from having a terrific smile, which is why we offer a variety of advanced aesthetic dental procedures.
It's an unavoidable fact: your teeth will darken over time. Food, drinks, tobacco, improper oral hygiene, even injuries and illness can all cause your smile to tarnish. But a white, bright smile makes a great impression, which is why we offer effective tooth whitening services.
If you've used over-the-counter solutions for teeth whitening, chances are you've been disappointed. For truly great tooth whitening, you need:
Trained professionals
Industry-proven methods
Advanced technology
Access to the latest and greatest dentistry has to offer
That's exactly why our tooth whitening is the best! Come in for a consultation, and let our experienced team recommend a whitening solution catered to your needs. From light-activated gels to take-home trays, we have access to prescription-level whitening systems that you simply can't find anywhere else.
If you are self-conscious about your smile, you don't have to be!
LUMINEERS
LUMINEERS are thin porcelain shields that are bonded to the front of your teeth to create dramatic, beautiful changes in your smile.
Benefits of LUMINEERS include:
Instant Whitening that lasts
Extraordinarily strong
Reshape misaligned/awkward/crooked teeth
Correct uneven teeth
Close spaces
Revitalize old crowns and bridgework
Fix chipped teeth
SNAP-ON SMILE
Snap-On Smile is an affordable, non-invasive, and completely reversible dental appliance that can easily and painlessly give you a beautiful smile.
Snap-On Smile is an excellent choice for:
Gaps, crooked, stained or missing teeth
Those who are not candidates for bridges or implants
Anyone who would like a transformative smile without the expense and discomfort of complex and invasive dental procedures
Anyone who has an old-fashioned removable partial denture and wants a beautiful, more comfortable alternative
DENTAL IMPLANTS
Dental implants are one of the most popular choices for replacing missing teeth, due to its many strengths as a procedure. With dental implants, your tooth replacement looks, feels, bites and functions almost exactly like an actual tooth. Made of a biocompatible metal, implants are placed into the jaw and fuse with the surrounding bone and tissue. A crown is then placed on the abutment. Implants are a great choice for:
Single Tooth Replacement
Anterior Replacement
Posterior Replacement
Full Upper Replacement
COMPOSITE BONDING
Composite bonding is used to improve the appearance of your teeth and enhance your smile. As the name indicates, composite material, either a plastic or resin, is bonded to an existing tooth. Unlike veneers or crowns, composite bonding removes little, if any, of the original tooth.
Composite bonding has many advantages:
Quick: composite bonding typically takes less than an hour to complete.
Conservative: Bonding does not reduce the tooth's original structure, keeping more good tooth enamel intact.
Frugal: Bonding is relatively inexpensive.
Natural: Composite resins better match natural tooth shades.